from the Bad Eagle blog

It seems that Yeagley concocted himself into a nomination for the Comanche council? How interesting, considering his financial ties to anti-education fanatic David Horowitz, and with his wink-wink-nod-nod obeisance to the white supremacy group One Nation.

While the rest of Indian Country voices admiration for Native figures like Quanah Parker, Dr. Louis W. Ballard, or Vernon Bellecourt, Yeagley's admiration is directed at his own personal heros like Adolf Hitler, Vlad III the Impaler, and the deposed dictator the Shah of Iran and his empress wife. No, we are not kidding.

In our struggles for Indian equality, education, and the natural environment we honor leaders like Winona LaDuke, Marge Anderson, and Wilma Mankiller. Who does Yeagley constantly rave about? In a word: Ann Coulter, Michelle Malkin, and his Mexican mother.

But how does Yeagley stack up on Indian cultural issues? In anticipation of the Comanche election, Bad Eagle has put together a point-by-point comparison gleaned from a detailed familiarity with Yeagley's blogger efforts.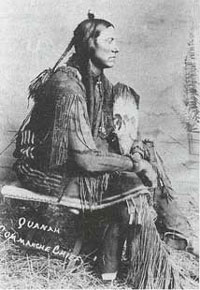 INDIGENOUS CULTURE . . . . . . . .


v e r s u s
. . . . . . . . LIFE IN YEAGLEYLAND
————————————————————————

————————————————————————
————————————————————————

————————————————————————
global warming very important concern
————————————————————————

————————————————————————
————————————————————————

————————————————————————
————————————————————————

————————————————————————
cultural & racial diversity is good
white supremacy rules (great white throne)
————————————————————————

————————————————————————
reservations are worthless
————————————————————————

————————————————————————
race based on ties to community
race based on blood (BIA-imposed)
————————————————————————

————————————————————————
racial makeup not too important
racial makeup very important
————————————————————————

————————————————————————
male superiority and misogyny
————————————————————————

————————————————————————
life by social (group) consensus
life by paternal (father) figurehead
————————————————————————

————————————————————————
————————————————————————

————————————————————————
————————————————————————

————————————————————————
existence & people mutually responsible
————————————————————————

————————————————————————
flexibility toward change
————————————————————————

————————————————————————
oral tradition & stories grow
static doctrine etched in stone
————————————————————————

————————————————————————
————————————————————————

————————————————————————
————————————————————————

————————————————————————
craves personal attention
————————————————————————

————————————————————————
maligns elders (including deceased)
————————————————————————

————————————————————————
calls educated Indians "commies"
————————————————————————

————————————————————————
————————————————————————

————————————————————————
against negative stereotyping
wants more stereotyped mascots
————————————————————————

————————————————————————
black indians as positive reality
wants the word "nigger" brought back
————————————————————————

————————————————————————
two-spirit people are welcomed
wants laws prohibiting gay rights
————————————————————————

————————————————————————
indians are "warriors"

————————————————————————

————————————————————————
tribes subservient to white control

————————————————————————

————————————————————————
blind patriotism comes first

————————————————————————

————————————————————————